Be it in offline or online selling, trust is what helps win and retain customers. No trade has ever flourished in the past with earning customer's trade.
In today's scenario where banks are hacked and keeping private information, private is becoming a challenge, winning customer trust is integral.
1. DISPLAY TRUST BADGES
According to Crazy Egg, "A trust seal verifies to visitors that a website is legitimate. Data is collected by the third-party trust seal company that confirms that the business is authentic."
Below are some of the popular trust seals that customers identify easily:
A trust seal or a badge boosts a customer's confidence to deal with your store financially. Trust badges are not for fancy. They are purpose-driven to increase conversion rates to your stores. At least 78% of online shoppers expect to see some trust badge on an eCommerce store before they are ready to divulge private information or transact a payment.
2. SET UP HTTPS ENCRYPTION
Have a look at these statistics that a survey by GlobalSign threw up:
84% of online customers will abandon carts if they feel their data is transmitted through an insecure connection
50% of the European customers are worried about the security of their credit card information
At least 28% of online customer believe the green padlock symbol is critical to making the buying decision
As is rightly pointed out by Google in 2014 I/O Conference, there is an increasing need for web companies to secure the online security of their visitors/customers through safety measures.
SSL certificate and HTTPS encryption help gain and also restore the trust customers have in an online store. In addition to providing web security, CONVERSIONiQ claims that SSL certificates help improve conversion rates by at least 3% to 12%.
You can choose Comodo SSL certificates to secure your eCommerce store. Comodo provides low cost solution to conduct business safely over the internet. According to W3Techs, Comodo is on the top position in the race of SSL certification authority by providing utmost web security solutions
Furthermore, websites with HTTPS will also be ranked higher by websites than those without SSL certificate encryption.
3. MAKE PRODUCT RETURNS EASY
UNCERTAINTY. This is the biggest reason why customers hesitate shopping online. Although eCommerce has become commonplace across the globe, customers still are wary of buying online fearing cumbersome returns.
Not all retailers provide an easy return process. Some simply hesitate to replace or exchange a product, defeating the very objective of online shopping.
This makes it a priority for online stores to set up a returns policy that is simple, easy and reliable to win customer trust.
4. ENSURE CUSTOMER DATA INTEGRITY 
Customers often throw in the towel when they distrust the business or website they are dealing with. At least 72% of customers are wary of their privacy. While mobile apps, website cookies and a host of other technologies enable online store owners to read their customer private records, it is essential to let them know about it.
Keeping customers in the dark is a costly mistake that will lead to disastrous results in the future, says a report by Harvard Business Review.
Always let know your customers what information is being taken and analyzed. Always seek permissions before accessing private information which may be freely available. Also, make the privacy policy easily accessible so that customers can refer to it if they desire so.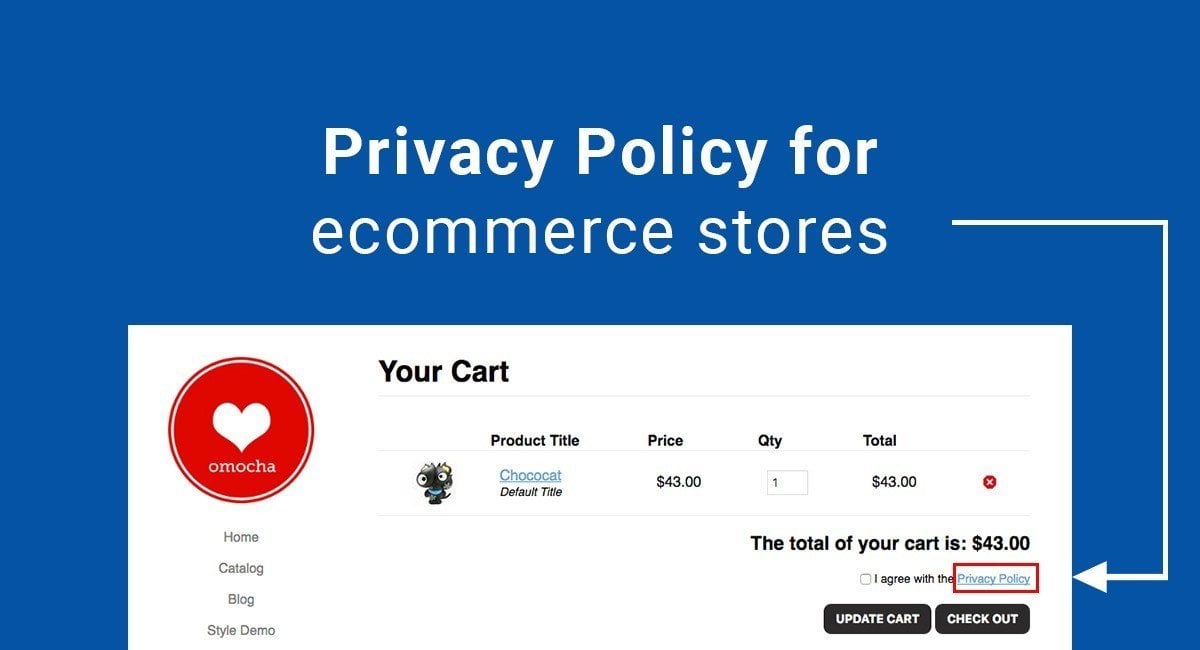 5. MANAGE ONLINE REPUTATION (ORM & SOCIAL MEDIA PRESENCE)
According to Nielsen, 84% of customers seek recommendations from their friends, relatives or dear ones before making a buying decision from a store or brand. Reputation is a serious yardstick of measure for eCommerce.
With social commerce on the rise, it is important for eCommerce stores to invest time and resources in managing online reputation. Managing online reviews posted by customers as well as increasing social media presence to better engage customers is essential.
All this socializing will humanize the brand as a trustworthy one.
6. BE REASONABLE WITH SHIPPING COSTS
Comscore and UPS in a combined study of US Consumer behaviour in 2014 found high shipping costs to account for 58% of cart abandonment.
Business Insider further estimates that approximately $4 Trillion of merchandise will be abandoned due to high shipping costs.
Shipping costs are necessary to sustain profitability, but they should be priced nominally so that customers do not feel they are ripped off. Moreover, the costs must be so positioned that they still provide a difference compared to offline store prices.
7. BE ALWAYS AVAILABLE ON SUPPORT
Admit it. You hate going to customer support when something goes wrong. Because, nobody cares to give good support.
Would you want your customers to feel and experience the same stress you have underwent due to poor customer service?
So make it a point to set up an elaborate customer support through phone, email, live chat or even social media. It is definitely a welcome move to improve customer trust affirms the experience of Sujan Patel. He was able to increase his conversion rates as high as 250% just by sparing the time to listen to customer grievances and acting on them.
8. DISPLAY YOUR CONTACT DETAILS PROMINENTLY
Websites with clear contact details are a welcome sign for customers. In fact, eConsultancy found that 920 out of 2,000 customers placed trust in a website for which contact details were readily available. The ready display of contact details instil trust in customers that it is not a fake or scam website that collects private information.
Most importantly, add your website to all possible business listings and classifieds so that you are easily searchable and traceable online. Make sure you include vital 'Contact Us' details like address, telephone, support email, fax, etc.
Conclusion
In the online business, customer trust is the pillar which will support business growth. With customer trust, sales volumes will plummet and will push the business to oblivion. Be it killing competition or expanding business geographies, customer trust is inevitable.
Also, remember customer preference change at the drop of a hat. It is worthwhile to keep an eye on their changing behavior patterns and constantly updating your website structure that will boost customer trust and goodwill.